Clinical preventive medicine ultimately aims to prevent disease in patients, though it can also cover medical treatments that aim to prevent diseases from becoming worse, or to limit the effect of disease on a patient's life. When most people hear the phrase preventive medicine, they often think of wellness practices like meditation, yoga classes or healthy eating programs. This is part of preventive treatment, but it's not the whole story; preventive medicine also includes things like screenings for common health issues, vaccines and immunizations, and targeted treatment plans. As preventive medicine unfolds, we can all expect to see big, fundamental changes across the entire healthcare industry – for the better. This will mean a wealth of opportunities for employers, payers, providers, and patients.
Which screenings are covered by preventive medicine?
The great news is, a wide range of screenings and immunizations are covered with preventive services. And it doesn't just stop with physical health, as mental health services are also included. We're all unique and have different requirements, based on our family history, personal health history, lifestyle, age, and gender (to name a few). So essentially, our needs are wide-spanning; your precise plan will depend on a huge range of factors. Preventive medicine encompasses lots of different actions, screenings, and processes and can be applied to areas of health such as:
Take a look at this to get even more detail on what screenings are covered. But the gist is, there's a vast array of services on offer, with a world of benefits for individual healthcare.
Why is preventive medicine so important?
The short answer is that preventive medicine saves lives, improves the patient experience, and drastically reduces healthcare costs for employers and insurers. The CDC has found that clinical preventive medicine can actually prevent up to 85% of disease. When you consider that six out of ten adults in the US have a chronic disease and that these diseases cost employers $36.4bn per year, it's easy to see both the social and the financial impact that preventive medicine can have. And preventive medicine is needed now more than ever. The incidence of chronic disease has risen 23% since 2016, and that uptick sees no sign of slowing down.
Moving from antiquated to automated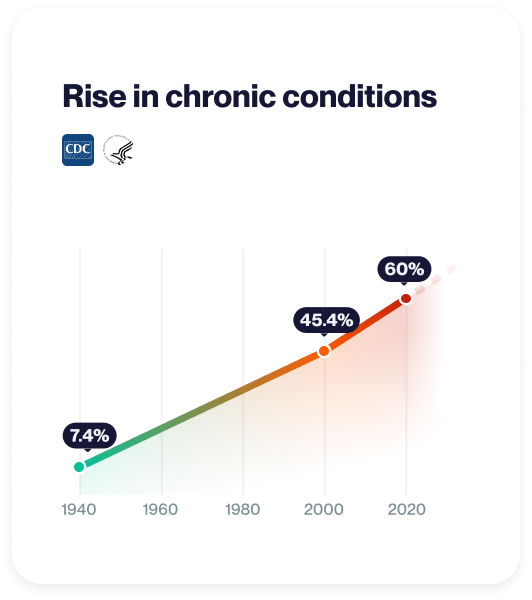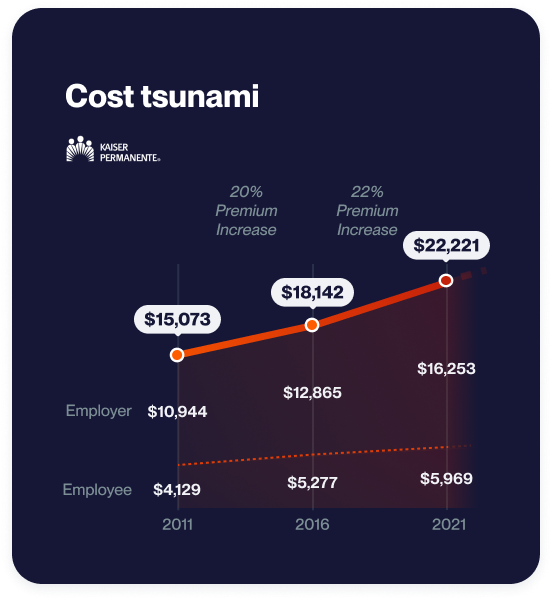 Today, most of us think of healthcare as something reactive; you get sick, you receive treatment, you get better. And that way of thinking was only exacerbated by the Covid-19 pandemic. On the one hand, healthcare systems came under incredible strain and, understandably, had to switch into firefighting mode, prioritizing patients who needed urgent reactive care. On the other, patients became nervous about visiting their healthcare providers and potentially exposing themselves to Covid-19, making them reluctant to attend essential preventive healthcare screenings and immunizations. Over 40% of US adults delayed or avoided medical care during the height of the pandemic, and 32% of that care was preventive. And when you consider that minority populations are much more likely to die of preventable causes and have much higher rates of cancer mortality rates, it's clear which groups have been most affected by preventive healthcare being 'put on pause'. The pandemic has, undeniably, widened the healthcare equity gap that's plagued the industry for years. Employers are feeling the impacts, too. A study by Mercer predicts that employers' health benefit costs will increase by 4.7% in 2022. And this is projected to double by 2030. All of this sounds overwhelming, and it's certainly a problem that urgently needs a solution. But there is a clear way forward. PwC's Future of Health report analyzes the current state of healthcare, the needs of patients, and shifts in the ways that the most innovative countries deliver healthcare. In the report, it's predicted that: "By 2030, healthcare will be centered on patients empowered to prevent diseases rather than seek treatment. They will receive personalized health solutions in ways that are integrated seamlessly into their daily lives." PwC's predictions are already coming to fruition, in the form of something called 'P4 care'
What is P4 medicine?
Preventive medicine on its own can have a huge impact when it comes to limiting the financial cost of disease. But many of the most innovative companies and countries are taking preventive medicine one step further and adopting 'P4 medicine'. P4 medicine is an approach that builds on preventive healthcare and adds three new dimensions to the approach: personalization, prediction, and proactive patient involvement in their own healthcare. These services are the key to preventing illnesses and diseases or detecting them at an early stage. Let's break down each of those areas: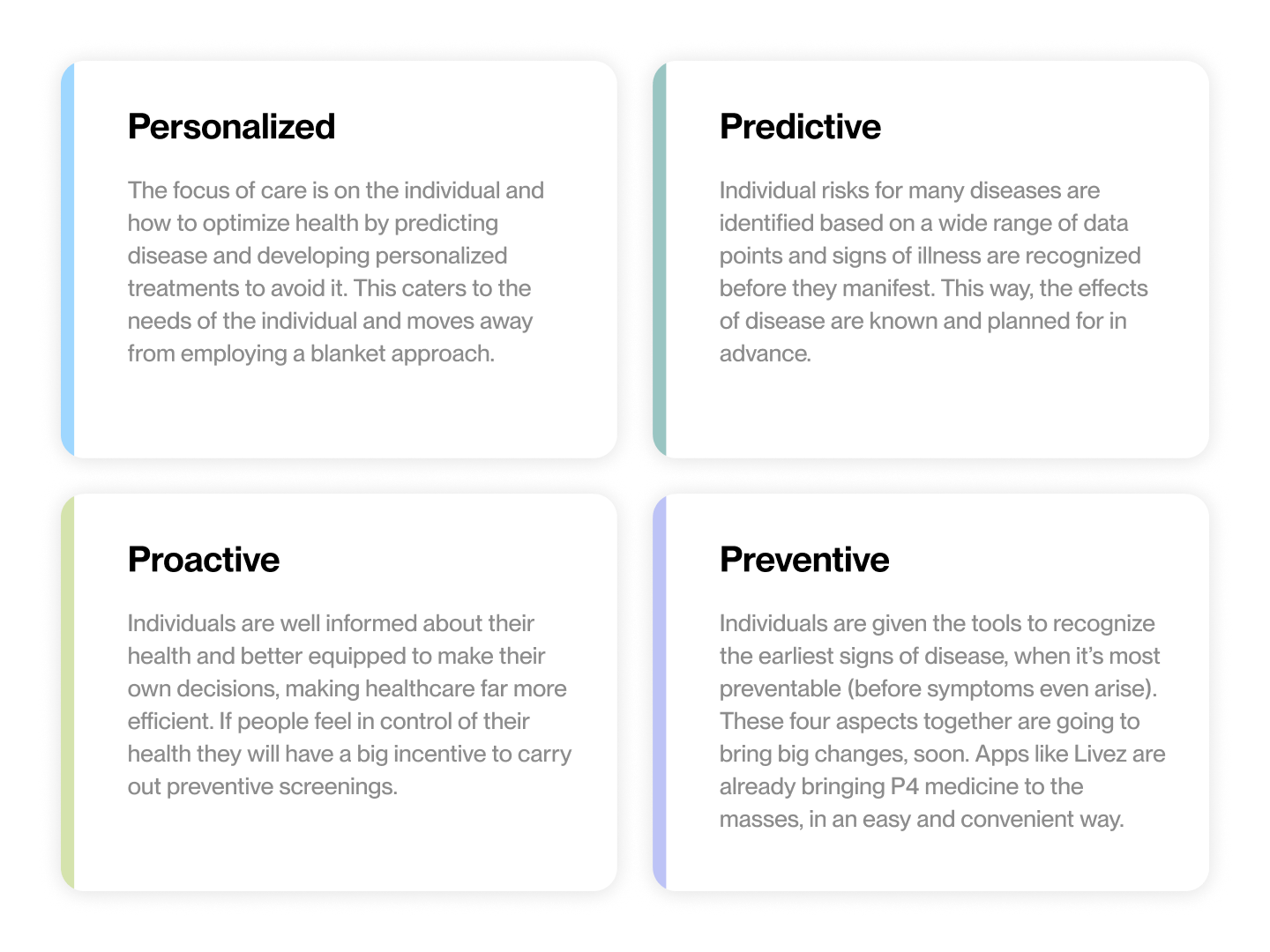 Personalized
The focus of care is on the individual and how to optimize health by predicting disease and developing personalized treatments to avoid it. This caters to the needs of the individual and moves away from employing a blanket approach.
Predictive
Individual risks for many diseases are identified based on a wide range of data points and signs of illness are recognized before they manifest. This way, the effects of disease are known and planned for in advance.
Proactive
Individuals are well informed about their health and better equipped to make their own decisions, making healthcare far more efficient. If people feel in control of their health they will have a big incentive to carry out preventive screenings.
Preventive
Individuals are given the tools to recognize the earliest signs of disease, when it's most preventable (before symptoms even arise). These four aspects together are going to bring big changes, soon. Apps like Livez are already bringing P4 medicine to the masses, in an easy and convenient way.
The benefits are clear.
P4 medicine means:
Control over healthcare costs
Giving employees access to preventive care creates real, immediate cost savings for employers. A recent RAND study found that for an organization with 10,000 employees, a good preventive care program could save the company between $5 million and $12 million each year. In fact, the study estimates that getting one employee to attend just one screening could save you $242 in healthcare costs. And that's just preventive care. When you dive deeper, it's clear that fully-fledged P4 care can have an even more powerful impact on healthcare costs for employers – you can read more about that in our blog on the ROI of P4 medicine.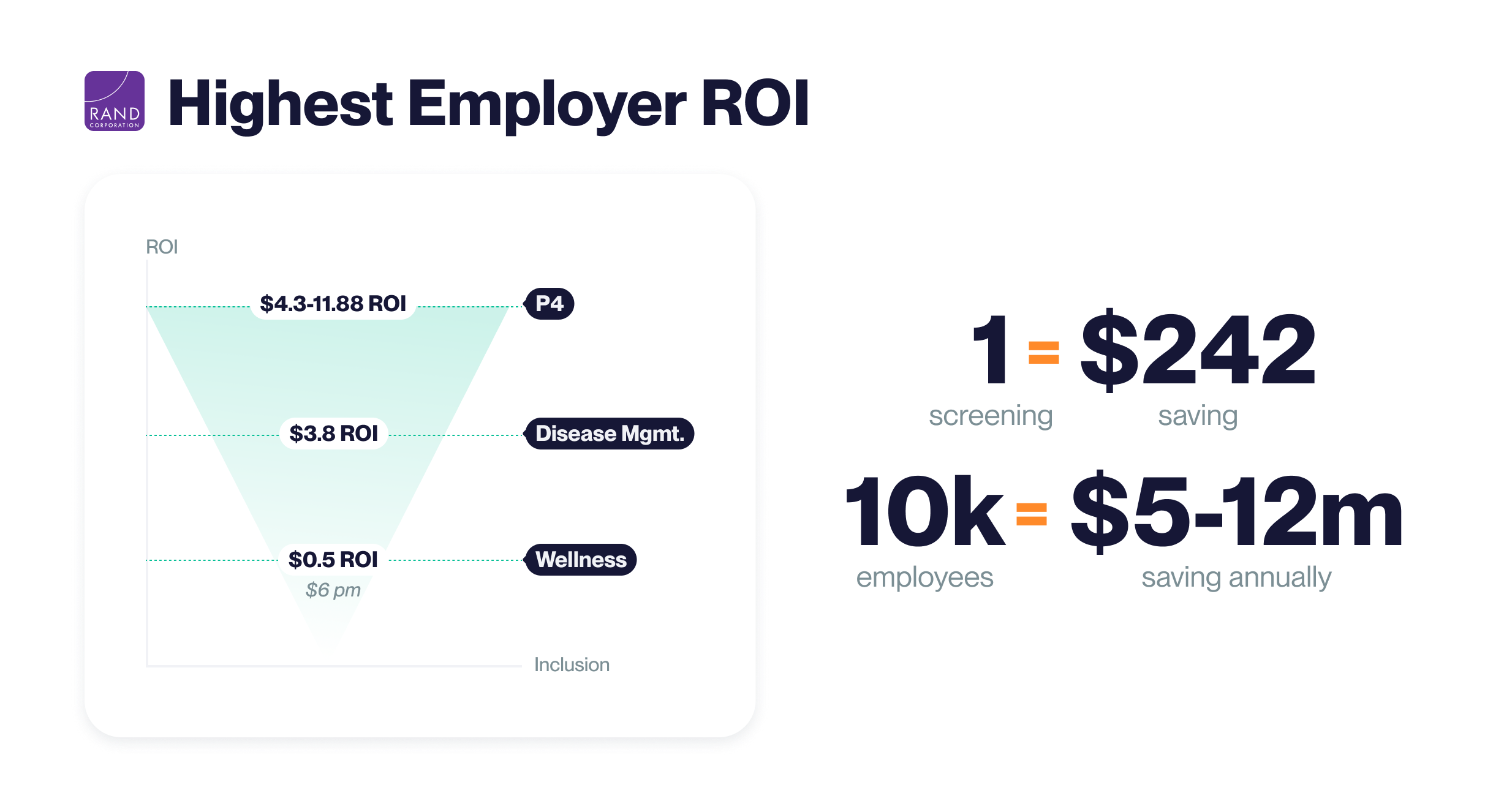 Inclusivity
One of the many benefits of preventive medicine is that it's inclusive and offers equal access to basic care. It's available to 100% of employees, spouses, children…and this applies irrespective of your family history, profession, or socioeconomic status. Just think of the implications for employers and health insurers, who will be able to offer equal healthcare that is in line with their DE&I goals. Because health equity isn't delivering the same care and support to everyone. If minority groups are more at risk of certain types of cancer, they need preventive healthcare plans that catch those types of cancer early, or target some of the factors that increase their risk. Analysis estimates that disparities amount to approximately $93 billion in excess medical care costs and $42 billion in lost productivity per year – this can be drastically reduced with the introduction of P4 medicine.
Continuity of care
Our lives are extremely busy. But P4 medicine offers the opportunity for continuity of care across the board, helping people to fast-track their healthcare and avoid any GP bottlenecks that pose a very real problem – whatever their circumstances are. Whether you're changing practices, moving countries, or changing your health plan, P4 medicine makes sure that your data travels with you. That means your new doctor will know all the screenings you need to attend, and all of your risk factors, and it will remain quick and easy to schedule appointments. We know that rewards simply aren't enough to incentivize people to be healthy. Preventive care services need to be easy and convenient so they can become second nature and true continuity of care can be achieved.
Ease of use
Many screenings can be carried out at home via your mobile and with telehealth, making life easier for people who can't afford to waste time. Also, we know that travel time to and from appointments can be a big access barrier for many people, who simply don't have that flexibility – due to childcare issues or work commitments for example. Telehealth makes it easier for these patients to connect with their doctor, without needing to leave their homes. Mobile screenings also take advantage of cell phone technology to detect risks. If you're worried about a mole, you needn't wait to receive care, and can instead perform a quick scan with your cell phone camera.
Building a better future
The excitement lies in P4 medicine adopting a global, data-rich approach to analyzing the complexity of disease. The idea of a systems approach to healthcare covers two main domains – wellness and disease – offering a deep understanding of biological complexity that's going to propel the departure from 20th-century medicine as we know it. Not only can this data create healthcare plans that can be fully optimized for the individual, but it can also give us the tools to help forge the future of modeling the complexities of human biology. So it's not just about solving the problem of disease now – it's about evolving the future of healthcare.
How do you access P4 care?
There's a misconception that P4 care has to be expensive and complicated. And it used to be; the only option used to be working with highly expensive providers who charged hundreds of dollars for every screening or doctor's appointment. Employees would only be able to visit particular doctors for screenings, and the cost and effort of attending appointments made many employees reluctant to embrace P4 care. But apps like Livez add a crucial component that makes P4 care accessible for everyone; technology. The key is using the latest technology to make screenings, education and appointment bookings easy. Livez achieves this by: Automating parts of healthcare delivery that slow down the process and cause frustration Constantly analyzing patient data to continually update their healthcare plan and direct them to the right care for them Using the latest technology to allow patients to self-screen for common health issues Allowing anyone, anywhere to provide health data and access information about their health – all from their cellphone.
Final thoughts
While we know how important P4 medicine is for reducing the burden of disease, a recent Cigna study reported that about 45% of respondents didn't even know they should see their doctor for annual check-ups and screenings. This just goes to show that more awareness is needed to encourage adoption and start seeing real change. P4 medicine is the future and governments in progressive countries are pushing it forward. Patients, employers and insurers will all  be seeing the burden of disease reduced significantly. And soon, we'll all be reaping the benefits and being the healthiest versions of ourselves. Do you want to hear more about how Livez is making that happen right now? Get in touch.