A deep dive into P4 medicine and why it's worth the investment
Here's a stat that will shock many employers: A recent RAND study showed that giving employees access to preventive medicine is, beyond a shadow of a doubt, the best way to immediately cut healthcare costs. "RAND found that, for an organization with 10,000 employees, a good preventive care program could save the company between $5 million and $12 million each year." It's no wonder that more and more companies are making preventive care – especially "P4" care, which we'll cover in a moment – a priority.
How is clinical preventive medicine different from wellness?
When insurance costs rise (and they're definitely rising – total premiums have increased by 22% since 2016), lots of employers start investing in wellness programs – initiatives that get employees to exercise more, eat better, and take more vitamins. That's often because employers think that "wellness" and "preventive care" are the same thing. But, while wellness is one important part of preventive care, it's not the whole story. This is why most employers don't see much ROI from their wellness initiatives.

Chronic conditions are becoming increasingly prevalent, and the cost of healthcare is rising sharply for employers.
In reality, wellness initiatives only deliver $0.5 per dollar of investment. Clinical preventive medicine, by comparison, delivers $4.3-11.88 per dollar of investment. So what's stopping wellness from delivering the ROI that employers need to see?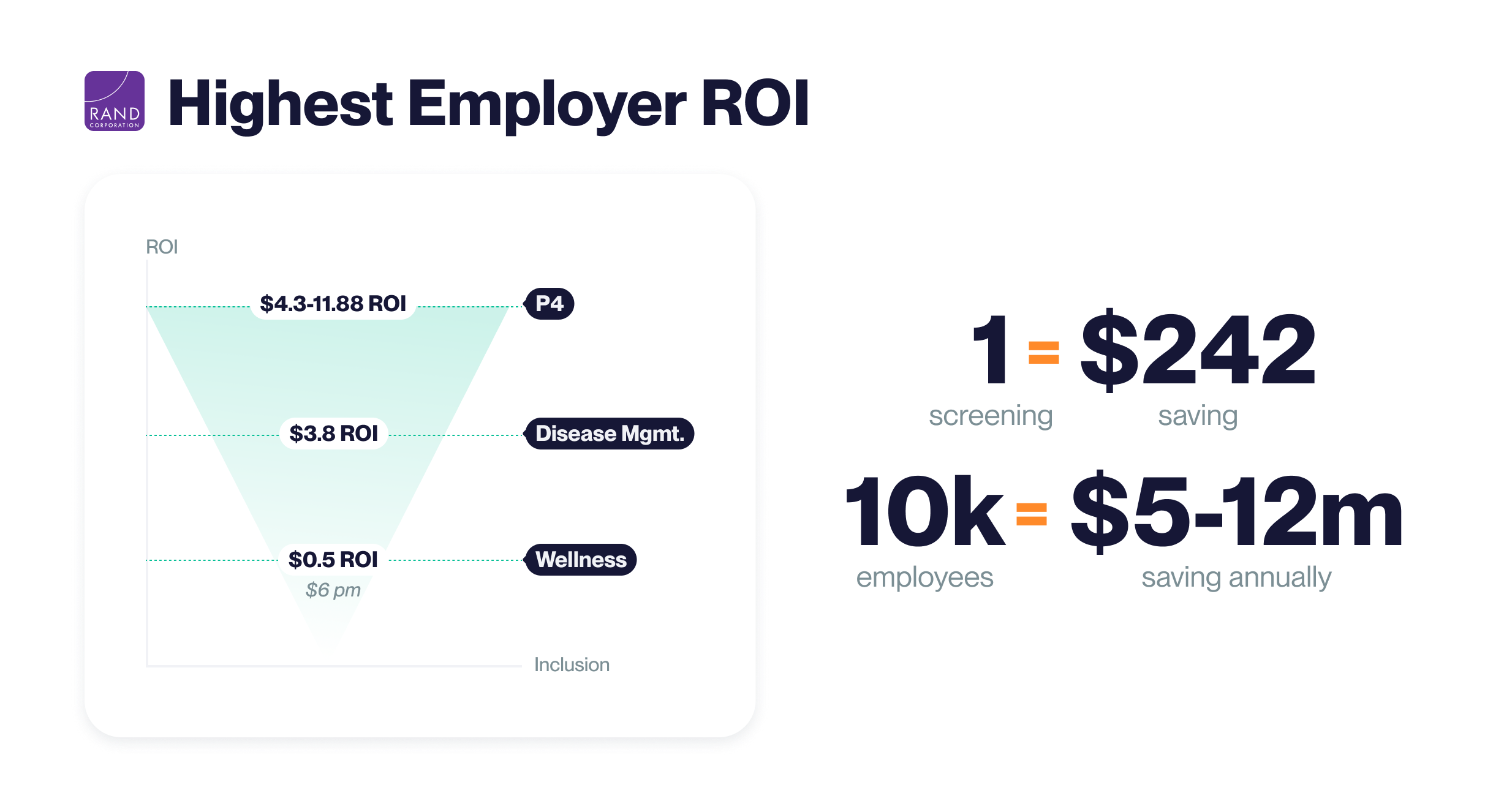 For one thing, wellness only tends to attract people who are already relatively healthy. And, culturally, it often excludes those with health issues that prevent them from cooking healthy food or running three times a week. Corporate wellness programs also rarely account for the things that really put employee health at risk. An employee can eat as much kale as they like, but it won't protect them if they have a family history of cancer. Many employers try to combat this by combining wellness with disease management, which focuses on using integrated care to improve quality of life for employees who suffer from chronic conditions. This is a great way of supporting employees, and can certainly bring down costs, but it's only relevant for a small subsector of employees. So, while wellness and disease management are certainly worthwhile, if you want to care for 100% of your employees, keep costs low, and see real healthcare ROI, preventive medicine is the way to go.
P4 is the answer to the cost burden of chronic disease
P4 medicine is a framework that is becoming increasingly popular with some of the world's most advanced companies. P4 stands for medicine that is:
Personalized – Care is tailored to individuals according to their personal risks (i.e., family history, ethnicity, gender, lifestyle, etc.). No two treatment plans are the same, and the whole experience of accessing healthcare is completely adapted to the patient's needs.
Predictive – It identifies the diseases a patient is at risk of developing and plans in advance how they can be treated or avoided.
Proactive – P4 care makes it easy for patients to take an active role in their own care. That means little nudges that get them to track their health and request screenings or information from their care provider, but also processes and technology that make it easy for patients to see relevant medical information and take action to improve or protect their health.
Preventive – It focuses on recognizing and addressing early indicators of disease.
What is the ROI of investing in P4 medicine for employers and insurers?
There's a common misconception among employers that investing in clinical prevention won't pay off in the short term. Let's debunk that misconception. In a conservative estimate done by RAND, it's estimated that getting one employee to attend just one screening could save you $242 in healthcare costs. And that's per screening per employee. Let's look at what this means for a workforce of 10,000 employees – getting 50% of your employees to attend 50% of the screenings that each of them needs on time and systematically can generate savings of $5m-$12m every year. From our own experience at Livez, we've seen that getting employees to attend their personalized screenings and immunizations regularly and on time can bring healthcare cost inflation down from double digits to single digits.
Let's look at some of the ways that P4 care brings can save you money this year: Potential health cost savings broken down by chronic disease
Depression
Over 70% of people who identify depression risk on time, see a significant improvement in their mental health.
You can save an average of $10,836 a year on mental health costs per employee with early detection.
Flu
The Flu season can cost employers more than $11 billion per year in direct and indirect costs.
A vaccine could prevent between 5-7 million flu cases each year, but most years less than 50% of people get vaccinated. If you can promote vaccination and convince more employees to get their flu shot, you'll be able to make a significant dent in your healthcare costs (and those other indirect costs).
We estimate that you can gain 4-6 weeks of productivity, just by making sure employees get their flu immunization systematically and on time.
Cardiovascular Disease
Heart disease costs businesses $1,100 per year in direct cost per employee.
It also incurs $1,100 per employee in additional indirect cost (13 lost workdays and 56 lost hours of productivity).
It's estimated that employers gain two2 weeks of productivity per employee through for early detection of risk for heart disease.
Cancer
Employers can save $15,000-$30,000 per employee through early detection of prostate cancer.
Over 99% of prostate cancer patients can be cured with early detection.
A simple operation to remove a tumor before it metastasizes costs significantly less than spending weeks, months, or years in chemotherapy.
COVID-19
The sudden cancellation of a number of different types of screenings and preventive services during COVID-19 is having long-term effects that show the real benefits of preventive care.
In July 2020 a study found that preventive colon cancer screenings dropped by 86% and cervical screenings dropped by 94% immediately following the declaration of the COVID-19 emergency.
Another study showed that mammograms declined by 96% in the first month of the pandemic alone.
Twenty-seven percent of people who delayed or skipped care reported that their medical condition had deteriorated.
It's estimated that employers lost around $78.4 billion over two years from workers being absent due to COVID–19.
The economic burden of lost wages of the estimated three million people out of work due to long COVID is approaching $200 billion a year – and is likely to rise.
It's estimated that by 2040, unfinished learning related to COVId-19 could translate to annual losses of $1.6 trillion to the global economy.
Other ways that preventive medicine improves ROI
Fewer sick days
By encouraging employees to take small amounts of time off work to make use of preventive health services, you'll greatly reduce the likelihood that employees will get seriously sick. And that means a huge reduction in the number of unexpected sick days taken by employees each year.
Those days add up; employers currently lose $36.4 billion a year to absenteeism that results from chronic disease.
Lower stop-loss fees
If, like many employers, you've protected yourself from large individual or aggregate claims with stop- loss protection, you're likely to see an immediate financial impact from P4 care.
Early detection, better education, and increased access to regular care and support all greatly decrease the likelihood of a catastrophic event that leads to a catastrophic bill.
Some of the options out there can be very expensive, charging hundreds of dollars for every screening or doctor's appointment. With some providers, you might find that employees can only visit particular doctors for screenings. That's why more and more employers are turning to apps like Livez, which use P4 medicine as a framework for their technology. By delivering P4 care through an app,
Livez helps to ensure:
Health equity – It's easy for anyone, anywhere to access the healthcare they need. Personalized plans ensure minority groups get support for diseases that affect them disproportionately, while the app format removes geographical limitations.
Better ROI – Healthcare delivered via the app is much more cost-effective than many alternative methods of delivery.
Holistic health – Livez constantly updates each patient's healthcare plan based on their most recent surveys, screenings, and appointments, to a level of detail that's not possible for humans to achieve.
Continuity – All of your employees' data is in one secure location, making it easy to keep doctors and patients in the loop.
Make P4 medicine the backbone of your healthcare plan
When your employees are wrestling with acute and chronic diseases, it can have a huge impact on both their well-being and your health insurance premiums as an employer. The good news is that, with effective P4 care, many of these diseases can be prevented, or at the very least their impact can be minimized. With the right employer P4 care plan, you'll be able to help protect the health of your employees, see significant ROI, and avoid spiraling healthcare costs. It's a win-win for you and your people – and one that's going to become the norm for employers.