Health equity isn't about equal care – it's about personalized care
Healthcare disparities aren't a new problem, but the pandemic has caused an even bigger issue when it comes to diversity in healthcare. COVID-19 uncovered weaknesses in healthcare systems and only illuminated the glaring health disparities.
And the solution lies in personalized healthcare. As each individual has inherent risks that are unique to them – be they related to their race, family history, gender, etc. – a blanket, reactive approach simply isn't working. And 60% of people already have a chronic condition.
Preventive medicine – services such as on-time screenings and immunizations can prevent up to 85% of chronic disease. Yet only 8% of people actually practice preventive medicine properly – and when people delay or lose access to preventive services it can have significant implications for their health.
This gap exists mainly because it's expensive and P4 solutions are white-glove and unscalable.
This presents an opportunity for organizations to offer a personalized healthcare solution to all individuals and make a big impact on achieving healthcare equity.
A closer look at the problem
To put it into context, generally speaking, screenings dropped immediately following the announcement of the COVID-19 emergency. For example, preventive colon cancer screenings dropped by 86% and breast and cervical screenings dropped by 94%. 
But while one in two people delayed their healthcare during the pandemic, 64% of BIPOC delayed care more often. 
Overall, minority populations have higher rates of mortality due to cancer, in particular colon cancer (37 out of every 100 people) and prostate cancer (36 out of every 100,000 males). And a study revealed that minority populations are also more likely to die early from preventable causes.
And that's the key word: preventable. Addressing these inequities now with preventive medicine could go a long way to reducing the health disparities that have been made worse by the COVID-19 pandemic. And prevent a deepening imbalance for health equity.
The role of DE&I leaders and P4 medicine
DE&I leaders are tasked with being the stewards of health equity in organizations – and it's not an easy task. 
The secret to true health equity is not equal care, it's personalized care – based on each individual's history, background, preferences, insurance information, etc.
In the majority of organizations, it's only the senior management that have premium personalized preventive healthcare benefits, in which they go to a white glove clinic once a year to complete their personalized screenings. And this gap exists because personalized care is expensive and isn't scalable in the current way it's structured. 
So how can we achieve diversity and inclusion through health equity, with a modern and diverse distributed workforce? The answer is progressive health equity through P4 medicine and technology. 
Think about your members or employees – we know that 60% of them have a chronic condition. And many don't even realize they have it or are even at risk. One day symptoms just show and they get reactive treatment.
We're all different. In fact:
Family history, age, and general health profile all come into play to determine our risk factors for diseases.
The future of healthcare is personalized and predictive
But it's not all bad news.
Imagine Google Maps for a second…how do you use it?
You work out the problematic routes and avoid them, right? 
With P4 medicine, you can do this for your health. But also for your family and all employees and members regardless of their situation. Technology can make it possible to give this to everyone with holistic and inclusive healthcare – physical and mental – for 100% of your employees. 
It also has a strong ROI, with an average of $5m-$12m a year per 10,000 members. 
DE&I initiatives need to embrace health equity practices to be truly inclusive. The initiatives are generally org-wide, so it's a perfect opportunity for organizations to incorporate P4 medicine as a benefit and simultaneously propel the broader goals of the organization – and society.
In fact, DE&I can create a mini coalition within the company, so it's not just another benefit that blends in. Clinical Prevention is actually how companies can combine DE&I initiatives and benefits to drive better health access and outcomes for everyone.
Analysis estimates that disparities amount to approximately $93 billion in excess medical care costs and $42 billion in lost productivity per year.
The good news is you can make it easy for employees to access progressive personalized preventive medicine. Services like Livez act as an 'Automated Health Equity Platform' for organizations. It is designed to provide each individual with the care that they need, based on their personalized risks, health plan, and behavioral patterns. And most of all, it's inclusive and adaptive to their individual needs – an embodiment of the vision of P4 medicine. 
P4 medicine: The details
How is it different from contemporary medicine? It's predictive, preventive, personalized, and proactive.
P4 medicine represents a move away from reactive healthcare models to maintaining health throughout an individual's lifespan.
It means that fusion of big data, with personalized information, behavioral science, artificial intelligence, and automation technologies, makes clinical prevention personalized and seamless, with utmost health impact.  
The goals of P4 medicine are ambitious but promising: 1) Improve healthcare, 2) Reduce the cost of healthcare, and 3) Stimulate innovation and new company creation. 
This proactive approach will: 
Focus on the individual rather than populations
Focus on wellness, as well as disease
Employ personal, dense, dynamic data clouds to dramatically improve  wellness and disease, and assess individual genetic and environmental influences on health
Leverage artificial intelligence to automatically align personalized risks, preferences, financial incentives, health plan eligibility, and behavioral science to allow seamless, systematic healthcare, while machines automate actions that people are used to doing today.
Be convenient and easy to access, for the entire population
Essentially, P4 medicine needs to be delivered in a digitized and personalized way, using the power of technology to combat the issue of inconvenience. And the result is allowing employers to work upstream to drive the best health outcomes and achieve equality in healthcare.
Health insurers have a big role to play too
Health insurers are also taking responsibility for addressing the national outcry for health equity. Humana has seized an opportunity to create a new health disparities measure to guide disparity-focused initiatives and track progress.
First, it developed a composite measure that includes eight individual measures of health behaviors, 5 of which are preventive medicine, screenings and immunizations, as the key health equity measures! Next, it stratified the composite measure results by racial/ethnic subgroups as well as by dual eligibility for Medicare and Medicaid. 
While it's still a work in progress, it's an important step in measurement and accountability when it comes to health equity
Other Health Plans are focused on Health Equity as part of Population Health initiatives, Medicare and Medicaid quality measures, Stars, HEDIS, and leveraging progressive technologies to drive value based care.
The future of medicine is happening now
 P4 medicine is the key to finally addressing the growing problem of health equity. 
PwC's "Driving the future of health" report says: "By 2030, healthcare will be centered on patients empowered to prevent diseases rather than seek treatment. They will receive personalized health solutions in ways that are integrated seamlessly into their daily lives. All of this will be enabled by data and algorithms."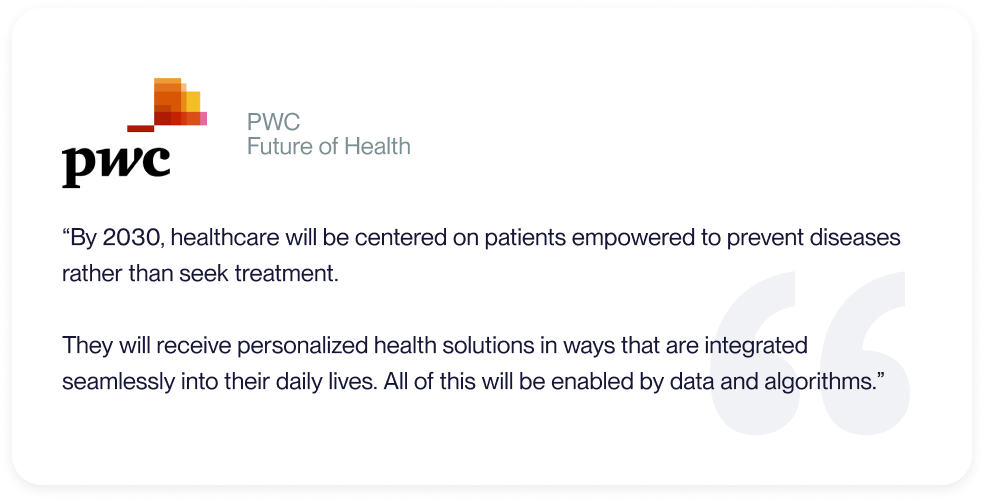 Convenience and technology need to come together to create solutions that are easily integrated into people's lives, spanning all demographics. 
And this shift will be easier than ever for organizations to implement, as a core part of marrying DE&I and benefits. 
Interested? Find out more about what we're doing to bring P4 medicine to everyone here.